The island of Lanzarote is volcanic, with spectacular scenery and a stark beauty all of its own.
Much of it consists of the so-called "lunar landscape", with huge lava flows and a baron appearance.  A few of the beaches consist of black volcanic sand however, the majority are fine white sand.
There are many interesting places to visit, including the Timanfaya (fire mountain) National Park, where you can take a camel ride, and see the volcanic caves and craters.
In the central parts of the island, you will see the very unusual way Lanzarote farmers cultivate their land and grow grapes for wine making.
And, in the north, Los Jameos Del Agua – has a underground lake and the most amazing theatre and at Cueva De Los Verdes a unique system of underground lava tubes.
There is a small white sandy beach in the centre of Playa Blanca, and two larger beaches a few minutes walk in either direction. Both these beaches have sun loungers and parasols for hire, with bars close by if you require refreshments. All are very safe for swimming.
There are several more extremely good white sand beaches at Papagayo about 7 km from Playa Blanca. There is a small entrance charge to go to these beaches, as they are part of the National Park.
Between Playa Blanca and Papagayo beaches is Europes first underwater sculpture museum (Museo Atlantico) all the sculptures are from British artist Jason deCaires Taylor, but you have to dive to see it. for more information go to: https://underwatermuseumlanzarote.com/en/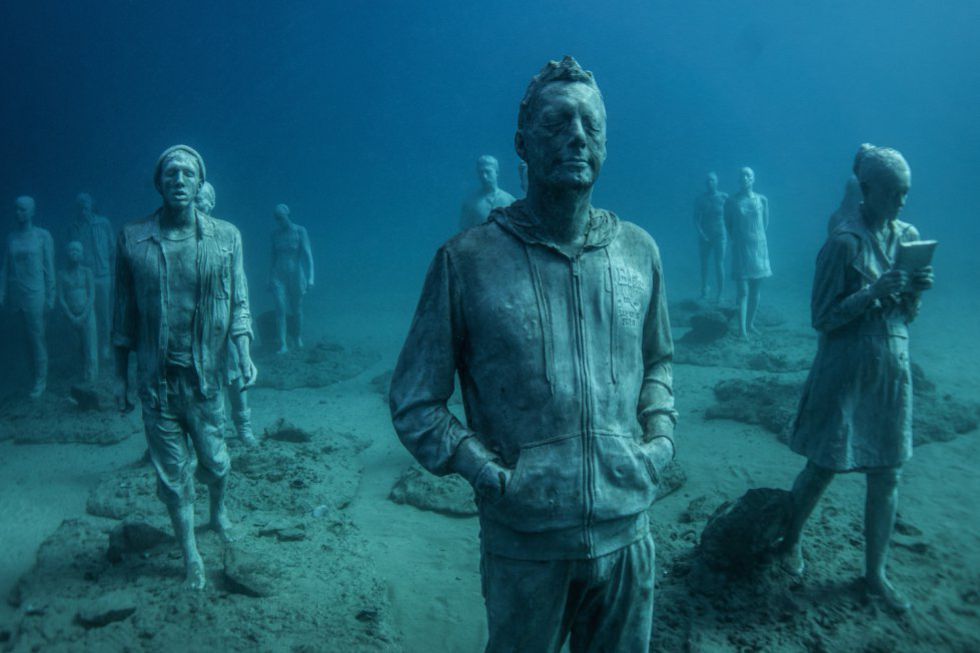 The island is developing in an ecologically sound way, and building and commercialism are carefully controlled.
UNESCO has declared Lanzarote a 'World Biosphere Reservation', for its protection and conservation. The World Health Organisation recently named Lanzarote the 2nd healthiest place to live in the world.
Other areas of interest are: the castle in Arrecife, which now houses an art gallery and a restaurant; the house of Caesar Manrique, who was the architect of this island; Bird Park and Cactus gardens, with hundreds of varieties of cacti.
For those who like sport, the north of the island is suitable for windsurfing, whereas the south is more sheltered. In addition, there is sailing, tennis, cycling, fishing (including big game fishing), go karting, quad biking, walking and golf.
There are a golf courses on the island,
On the north/west side of the island is La Santa, which is a famous sports resort, where many of the top athletes train. And, for fun, there is the Aqua Park, in Playa Blanca.
One of the main attractions of Lanzarote, is the excellent weather all year. The island receives very little rain fall (maximum 35 days per year); the most likely month for rain being January, although it is possible to have rain almost any time of the year. The temperatures vary between 20°c – 32°c, generally and most days there are the breezes to stop you getting too hot.
There is a large market in Teguise, every Sunday, and a smaller market in at the marine in Playa Blanca on a Saturday and Wednesday from 9am to 2 pm. Designer shops can be found in Arrecife (which is the capital of Lanzarote), plus the Deiland Centre at Playa Honda, and in Playa Blanca – both in the centre of the town – and the new marina.
Lanzarote only has a 7% VAT rate, and no import duty, so you can find many bargains including: cameras; electronic goods; watches; perfume; alcohol; cigarettes. And, if you could only bring it back petrol, it's 40p cheaper than the UK!